I guess it is time for my blog to address the economy and the looming fiscal cliff. So far, most of my posts have documented my dissatisfaction over why the economy has been the only focus of political discussion and public interest. But, with another deep recession looming, it is time for Congress and the government in general to get to work and solve this crisis. I think one of the reasons I am hesitant to write this blog is that I just don't know where to start as there are so many factors and issues at hand. Some of my readers are probably very up to speed on the issue, some are not and still others are people from other parts of the world. Even though the numbers are small, I really like that there are people that I have never met actually reading this on the other side of the globe. Or at least a few are visiting my site and returning. So writing a readable blog to that audience on this subject has admittedly been a challenge that has been on the unfinished blog plate for a while now.
Since this is an opinion blog, I guess I will start with a very quick synopsis of the issue as I understand it. We have a "fiscal cliff". In other words, there is a law that says that if we don't come to an agreement on some budgets and deficit items by the end of the calendar year, then automatic across the board cuts will automatically go into place based on this previously signed law.  All analysts agree that unless an agreement is reached, the automatic cuts and tax increases will likely send our economy back into another deep recession. Seems like a good idea and an easy way to ensure that congress will have no choice but to compromise. After all, there is no way that Congress would allow the nation to intentionally fall into another deep recession based solely on political ideology would they? Oh crap, I again forgot about the Tea Party. They have done it once, what would stop them from doing ti again?
So both sides say they are willing to compromise, but for some reason we have a stalemate. The stalemate that looms is over two issues. The Democrats do not want the burden of the debt to be settled on the backs of the less fortunate of society in the forms of cuts to Social Security/Medicare/Medicaid or otherwise known as "entitlements". The Republicans want the cuts to come from raising the retirement age for eligibility and from privatization of those "entitlements" which would favor the wealthy. Once again, these types of "reform" have zero impact on the upper class but huge impact on the lower and middle class.
Tragically, meaningful defense spending cuts are not on the table for either party as apparently the war machine is an upper middle class jobs program that neither party is willing to touch.
Yes, something has to be done to address the crisis in health-care costs, but is this the only solution to take it out of the hide of the less fortunate, poor sick, elderly, and children? The Republicans on the other hand are not willing to compromise on raising revenue in the form of additional tax to the wealthiest among us. As a way to raise revenue, Obama and the Democrats proposed a compromise that consisted of allowing the Bush Tax Cuts to expire, but just for the wealthy, or those making over $250,000/year. The tax rates for these people would go back to the modestly higher levels that they were during the Clinton Administration.  The lower and middle class people that unarguably have been hit harder in the recent economic downturn would still retain the lower rates associated with the current plan.
First, let's discuss the Republican line in the sand which is tax rates for the wealthy. First of all, why exactly are so many Republicans willing to lay it all on the line for a bunch of rich guys? Sure they may lose the vote of the people making over $250,000/year, but how many votes are we talking about there – not many. Sure the rich minority does have all the money, but they do not have all the votes. What is Trump going to do then? Vote for Obama or a Democrat? Not likely. What do they have to gain? Or lose? If they give in to Obama and allow the tax rates to go back to where they were, do they really believe that the economy would simply collapse under the burden of a few percentage points for this group?
I am sorry but I actually graduated from college in 1998 when businesses were subject to the crippling Clinton tax rate and I attended a few job fairs in that time as well. Luckily for me, Best Buy was not the only company recruiting Electrical Engineers like they are at those same job fairs today. I am just not sure I buy the argument that this is all about protecting small business and ensuring job and employment growth. The numbers don't add up and neither does the rhetoric. Nope, for the Republicans, once again, this issue is about ideology and big, big corporate money. The problem is that there are just not enough rich people to provide voting numbers to ensure that this agenda for the wealthy gets through. That is where Grover comes to the rescue.
Grover Norquist is a name that some people know and one that some people probably don't.  Whether you know the name or not, his impact on the course of the world is undeniable. You see back in the "read my lips, no new tax" days, it was a very popular thing for Republicans to declare during a campaign that they promise or swear that, under no circumstances, will they vote to raise taxes in any way. Grover and his political cronies jumped on this movement and created a generic no tax pledge.  A lot of big money then poured into a strategy to make sure that only Republicans that sign this pledge could get elected. In other words, they go around with this pledge and basically get right in your face and say if you don't sign this then we will go after you with all of our power and money and make sure you don't get elected. If you break it, we will see to it that you never get re-elected as you will be shunned by the party. This is exactly what happened to the first George Bush when he broke his "read my lips" pledge. So in spite of the fact that both Reagan and Clinton successfully used tax increases to assist in deficit reduction and recession mitigation, pretty much every GOP congressman in the last two decades since has taken and held this pledge. We are currently living with the repercussion of this peer bullying.
This reminds me of similar pledges that were thrust upon me in high school asking me to sign all sorts of pledges. Under heavy pressure, I signed a pledge of devotion to Christ, chastity until marriage, and to not try alcohol or drugs. After all, if I didn't sign it, I just made a public admission to my friends and family that I am aligned with Satan; I plan to have premarital sex and plan to use drugs and alcohol. Wasn't high school great?
Well, this bully strategy is exactly the strategy Grover Norquist and his supporters have been using for twenty years. Exactly like those pledges in high school, they may work for a while, but make no mistake, eventually you are going to have unplanned babies coming out of your ears and no strategy to pay for them as the drunk Prom King breaks all three of those pledges in approximately 23 seconds of earthly debotury.
I also really, really love the pledge that is the center of this controversy. Here is the actual document that every single top Republican was bullied into signing and adhering to with no possible exception.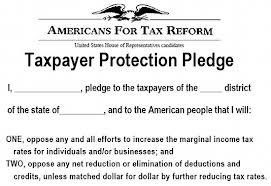 If you are reading this and thinking that it looks like it was written for a person with a 5th grade education, well, you are actually correct. This is presented to people across the country and especially those with lower education levels and lower levels of understanding of it actual ramification. The Tea Party crowd for instance can really get behind a candidate that "ain't going raise taxes no more". Unfortunately, if a student created this pledge and turned it in as their solution to an assignment on "how to fix the economy", an eighth grade civics teacher will probably justifiably laugh and give an F.
So, for example, under this pledge, what happens if an elected Republican official is faced with a need to send troops into war for an entire decade? How can they do that and still cut taxes and uphold their pledge? Or what about a bill to fund the ever increasing number of troops now coming home from years of war and in need of employment and ongoing financial and health assistance. Well currently, these Republicans have two choices. Vote for the new tax to pay for the war and properly support those they send to fight it, or vote to keep their own job and screw veterans and the entire World economy in favor of elitist ideology.  So far, it seems the decision has been pretty easy for most Republicans in Congress and their presidential candidates.
To be fair, the Republicans are willing to compromise on the new tax. What you are going to hear on TV and the Sunday talking heads is that they are willing to agree to the same level of revenue increase but not in the form of an across the line tax rate that would cause them to break that brilliant pledge they all signed. They want to do it in the form of elimination of tax loopholes. I am in favor of elimination of loopholes as part of the revenue plan, but it has to be combined with a minimum tax rate. Let's further examine why, from a critical thinking standpoint.
Warren Buffett, the only non-greedy Billionaire in the entire world has proposed a brilliant and simple solution in a recent NY Times Column that includes a minimum tax rate for the wealthy that ensures millionaires and billionaires do not find ways to scam the system by paying little or no tax the way they currently do. Unfortunately, it will never work and here is why. First of all, there is too much money and greed behind that pledge. Second, the reason the GOP is so insistent that the cuts be from loopholes is once again so that they can be in control of just who gets hit and how hard.  In other words, the loopholes that keep Exon Mobile paying close to zero tax are likely firm, but the one that fund Planned Parenthood, NPR, and PBS can be easily chopped as the pending filibuster count grows exponentially along with the advancement of a very certain and obviously biased social agenda. Meanwhile, the economic gap continues to grow exponentially as well. The Democrats and Warren Buffett are right on this one. Generic elimination of undefined loopholes is not enough. The statistics in Buffett's column that show the recent rise of the wealthy is simply sickening when you consider where most of the country has gone over the same period.
Enough is enough! The wealthy should not be sitting on a golden pedestal and it is up to individual citizens to dictate political policy not Grover Norquist and his corporate backers.
Let's move on to the entitlements which are the Republicans sticking points. Democrats have taken Social Security off the table and justifiably as it really has had no impact on the current deficit problems and cutting it to save them is not good policy and certainly not the will of the majority of the electorate that put them into office. The ridiculous rise in healthcare cost does have to be addressed as the Medicare/Medicaid system cannot continue to fund it at the current rate of expansion. Once again the solution is promoting and increasing funding for wellness programs to cut into the high and growing cost associated with illness care, but once again, the only solution acceptable to the GOP is cutting funding and basic protection for those that are most vulnerable. It is simply mind-boggling.
Like in the tax issue, the compromise also has to be fair to the working class. People are living longer and the entitlement period is extended and the expense of the healthcare is growing as well. It makes sense that we have to increase revenue into the program and raising the retirement age sure seems like the easy an obvious choice. As someone that will likely be dealing with these new age mandates, excuse me if I do have a few concerns with this typical ideology and talking point. One concern is that a person's retirement age is not always their choice in today's working environment. The current private employment structure leaves little job security, pension plans, or the right to collectively bargain. So simply choosing to work until you are 70 or 75 is not exactly going to work for a great number of people and especially those in the working and middle class. You can work giving your heart and soul to a corporation for 30 years and you may still find yourself out on your ass the first time that company needs to trim the bottom line by cutting the high salaried and slowing down old guys with limited skills with lighting fast new technology. I am really looking forward to finding a completely new career and healthcare plan at age 65, that should be fun!
I also just love the fact that the majority of the white baby boomers that are the ones demanding these entitlement reforms, also always include the caveat that these changes will not affect their generation. Thanks guys. You are the best!
Ultimately, I do believe that most of the fiscal cliff stuff is posturing and I believe some sort of agreement on spending cuts combined with increased revenue will be made or the issue will again be postponed. I don't actually anticipate a fall off the fiscal cliff. Regardless, it is about time that Democrats, Republicans, and high school students band together and take a solid stand against bullying and these childish lifetime pledges like the one Grover and his cronies have been shoving down our throats all these years.
Congress, rip it up and make a pledge to yourself to use your own brain to do your own critical thinking! That is really the only true solution.